In our busy lives, convenience plays a crucial role in meal preparation. When you're faced with a day and limited time, in the kitchen frozen ready-to-cook chicken becomes a lifesaver. By adding some imagination you can transform this ingredient into mouth watering dishes that will amaze your loved ones. Let me share with you a selection of top-notch recipes to experiment with using ready chicken for cooking.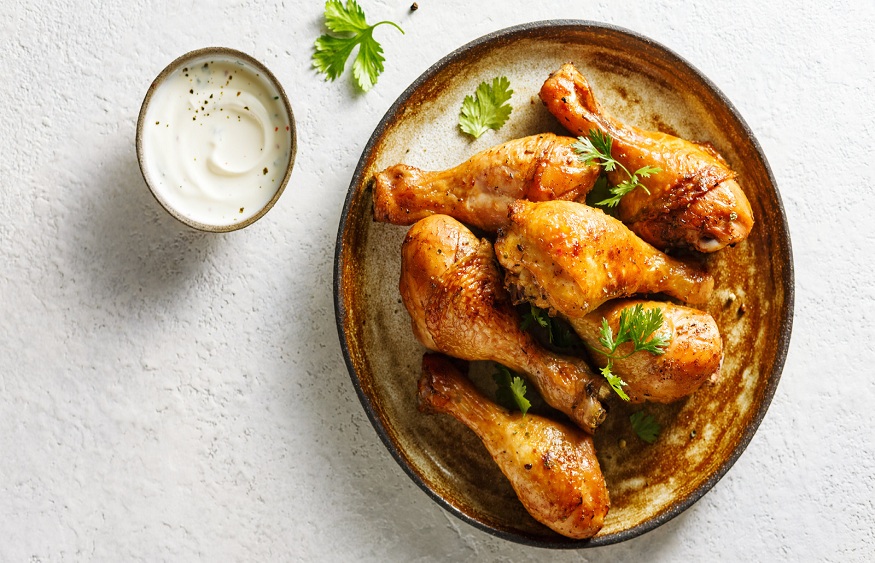 Baked Parmesan Crusted Chicken
Here's a simple and tasty recipe that transforms pre-cooked chicken breasts into a delectable dish with a crispy texture and delightful flavours evoking the taste of fried chicken. Follow these step-by-step instructions:
 Preheat your oven to 400°F (200°C) so that it can reach the desired temperature when you're ready to bake the chicken. In a dish mix together grated Parmesan cheese, breadcrumbs, garlic powder, salt and pepper to create the coating mixture. Please feel free to modify the quantities to suit your personal flavor preferences. Take each chicken breast and dip it into beaten egg white. This will aid in making sure the breadcrumb mixture adheres to the chicken. Add some moisture to the dish. Once coated with egg white roll the chicken breast in the breadcrumb mixture until it is evenly coated on all sides. Press gently to help the breadcrumbs adhere. Put the chicken breasts with the coating onto a baking sheet that has been covered with parchment paper. The parchment paper helps prevent sticking and makes cleanup easier. After coating all the chicken breasts and placing them on the baking sheet you can transfer them to the oven that has been preheated. Let the chicken bake for around 20 to 25 minutes until it turns a golden brown and becomes crispy. Remember, cooking time may vary based on how thick the chicken breasts. So it's a good idea to check for doneness by cutting into the thickest part of one breast to ensure it is fully cooked. Once you see that brown colour and the internal temperature reaches 165°F (74°C) you can take the chicken out of the oven. Give it a minute to cool before serving—this helps redistribute juices and guarantees tender and flavorful meat. Pair your crispy chicken breasts with your preferred sides, like mashed potatoes, steamed veggies or a refreshing salad.
Lemon Garlic Skillet Chicken
If you're in the mood for a dish bursting with flavours this lemon garlic skillet chicken recipe is just what you need! To begin heat some olive oil in a skillet over medium-high heat. Cook the sliced garlic cloves until they become aromatic, taking care not to brown them. Next, season chicken thighs or drumsticks with salt, pepper, paprika powder, dried oregano, and dried thyme before cooking. Cook until they become a gorgeous golden brown on both sides in a pan with the skin side facing. Finally, while the chicken is still in the pan, liberally squeeze fresh lemon juice over it to lend a tart finishing touch. Enjoy! Reduce heat to low-medium; cover closely, allowing steam from juices to escape—about. Just before serving, sprinkle with fresh parsley. For a complete and fulfilling dinner, serve with steamed veggies or a side salad.
Chicken Stir-Fry
Stir-frying is a method to make a quick, healthy and tasty meal using frozen ready to cook chicken. If your chicken isn't already defrosted, start by thawing it in the refrigerator. For cooking, slice the chicken into thin strips. In a wok or skillet, heat some vegetable oil over high heat. Add minced garlic, onions, bell peppers and any other veggies you like. Stir fry them until they become slightly tender but still have that crispness. Move the vegetables to a single side of the pan. Place the chicken strips on the other side. Cook until the chicken is no longer pink in the centre. In a bowl whisk together soy sauce, oyster sauce (or hoisin sauce for more flavour) honey (if desired) ginger powder and cornstarch mixed with water to create a thickening agent for your sauce. Pour this mixture over your stir-fried veggies and chicken while continuously stirring until everything is evenly coated with that homemade sauce. Serve hot on top of steamed rice or noodles.
Creamy Chicken Pasta
If you're craving comfort food but don't want to spend hours slaving away in front of the stove, this creamy chicken pasta recipe will hit all those right notes! Start by cooking pasta according to package instructions. You can choose between fettuccine, penne or spaghetti as they are the popular types of pasta. Start by boiling the pasta and in the meantime melt some butter in a pan over medium heat. Sauté diced onion and minced garlic until they become soft then add sliced mushrooms to the pan. Cook until mushrooms have reduced their size and released their moisture. Start by adding chicken breasts or thighs that are already chopped and ready to cook. Cook them until they become browned on all surfaces. Next, add some cream and grated Parmesan cheese to the pan stirring everything together until the sauce thickens. Don't forget to season with salt, pepper and dried oregano according to your taste preferences. Once the pasta is cooked al dente (firm, to the bite) drain it and then add it directly into the pan with the chicken mixture. Toss everything together ensuring all the pasta is coated evenly. Serve immediately for a comforting and satisfying meal that will impress your family or guests.
Chicken Quesadillas
If you're looking for a tasty snack or appetizer, chicken quesadillas are always a hit with everyone! Start by shredding thawed frozen chicken breasts or thighs that are ready to cook. In a skillet over medium heat melt some butter and add minced garlic, sliced onions and bell peppers. Cook them until they become tender. Include the chicken and cook it until it's thoroughly warmed. Season it, with salt, cumin, chilli powder and paprika according to your taste preferences.
Conclusion
Frozen ready-to-cook chicken home delivery can be a lifesaver when you're short on time but still want to enjoy delicious homemade meals. These recipes provide just a glimpse into the numerous possibilities this ingredient offers. Don't limit yourself—experiment with different flavours, spices, and cooking methods to create your signature dishes!