Your exterior wall paints make an impression on your guests even before you open your home doors and welcome them into your sanctuary. What does this mean? It means that you must take extra care to ensure that your exterior paints always look fresh and shiny.
The thing about exterior textures is that they are more vulnerable to peeling and chipping as they are perpetually exposed to environmental factors like rain, storm, harsh UV rays, moulds and fungus.
Wondering how you can stay proactive and maintain your exterior paints? Read along as we share with you 7 handy tips that will ensure that your exterior wall paints stand the test of time.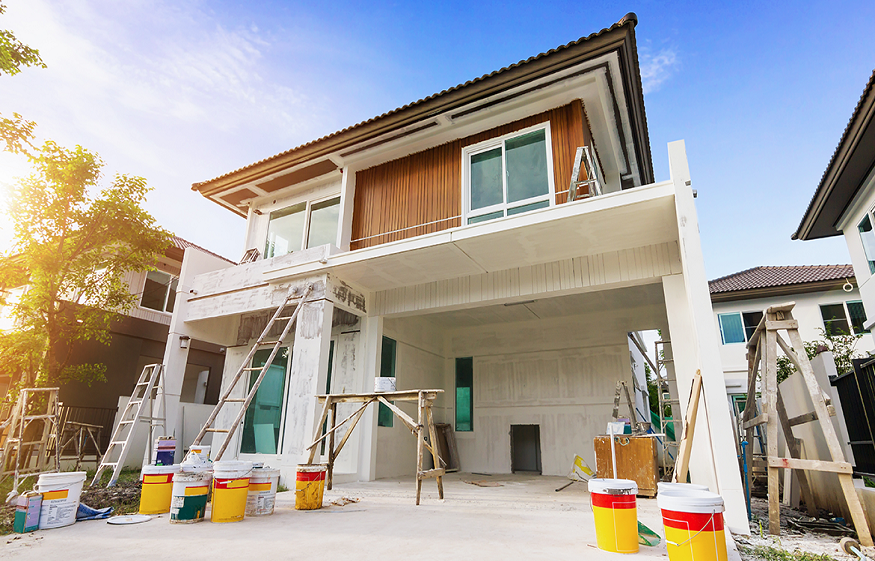 Invest in the best quality exterior paint 
The worst mistake you can commit is to use interior paints for your exterior walls. Exterior wall paints are specially formulated for outdoor use, and they havechemicals which help in protecting your exterior walls from harsh weather conditions. So, make sure that you buy the best exterior wall paint, which provides high resistance against dust, moisture, water, UV rays and other environmental factors. Ensure that your exterior paint also has anti-fungal properties to prevent mould growth on the exterior walls of your abode.
Hire professional painters 
Exterior wall painting is difficult in comparison to interior wall painting. So, if you are sceptical about painting your exterior walls on your own, we highly recommend you hire a professional contractor to do up your home exterior. Professional painters know what works for your home exterior depending on where you stay and the materials you have used to build your home exterior and will accordingly suggest an Asian Paints exterior colour, which is perfect for your home exterior.
Fill the cracks 
If you notice any cracks or holes in your exterior walls, then fix them instead of ignoring them. By regular maintenance of your exterior walls, you can ensure that the damage doesn't get severe. Not just that, in the long run, it will save you a lot of time and money as it will prevent any serious structural damage.
Follow multiple coat system 
We recommend at least applying two coats of primer for your exterior walls followed by two coats of the best exterior wall paint for your home exterior. This will create a thick barrier for your exterior walls and will ensure that it doesn't chip off easily and stays the same for many years to come.
Indulge in caulking 
Your windows, doors and vents are prone to leakage over time. So, ensure that you caulk these highly susceptible areas and joints at least once a year to ensure that they are sealed and don't cause any leakage.
Regular washing 
You must regularly wash your exterior texture with a mild soap solution and a brush or a sponge to get rid of the dirt, debris and bird droppings on them. You can use a garden hose to give a thorough wash to your walls. You can also consider pressure washing if you want to save time and give your walls a deep cleanse. If you observe that there is mould or mildew growth on your walls, then you can consider adding a few spoons of bleach into your soap solution and using it to clean your exterior walls.
Consider touch-up painting 
If you notice that any section of your walls has peeled off, then we advise you to indulge in touch-up painting and fixing the issue. Use a high-quality Asian Paints exterior colour and fix the issue, instead of waiting for another year before you do up your entire home exterior. This will ensure that your home exterior always looks presentable and neat.
Other than these above-mentioned steps, regular trimming of shrubs and bushes around your landscape so that there is enough airflow around your house, keeping the sides of your house clean to prevent wood rotting or mildew growth and keeping the gutters clean are other ways in which you can increase the shelf life of your exterior walls.
Visit the Asian Paints website to get your hands on the best exterior wall paints for your home.